Exhibition of Ron Gladnick Collection
By Will Larson
Reprinted from Mineralogical Almanac,
Vol. 17, No. 3, 2012
The Tucson 2012 Westward Look Show always displays a collection on the Saturday that the show falls upon. Collector's Day, as it's called, is an all-day event where one mineral collection is on display for the public to view, a one-day show. Ron's collection was the featured collection of this year. His display was a big success as everyone loved to get to know him and his collection. Ron's collection is quite unique in that each piece in his collection is not only excellent but also each piece has been painted by the famous nature artist Gamini Ratnavira. My favorite piece in his collection is the anglesite from Touissit, Morocco, nicknamed the Moroccan Sun. This sunburst of yellow is quite shocking and is a fantastic mineral specimen that really catches your eye.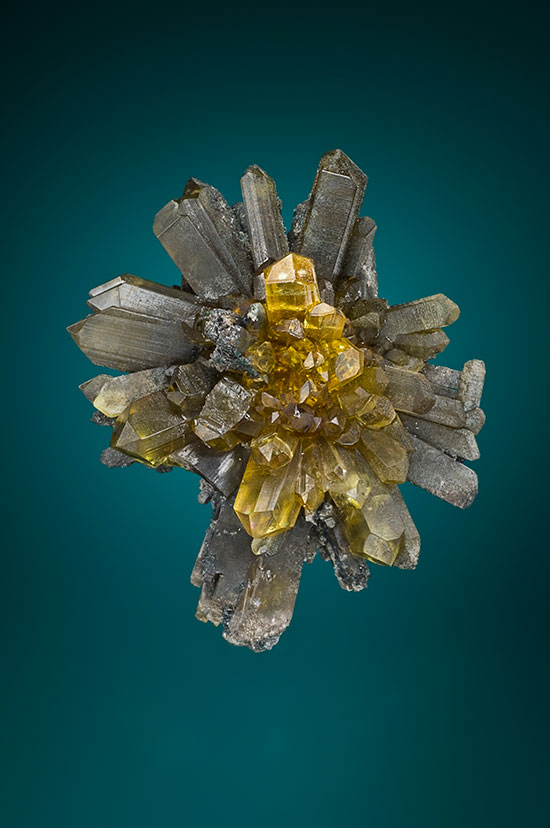 15.5 x 14 x 5 cm. Touissit, Touissit District, Oujda-Angad Province, Oriental Region, Morocco. (Photo: Jeff Scovil)
Ron's collection contains incredible pieces from all over the world from both classic localities such as Kongsberg, Norway, and also new localities such as Milpillas, Mexico. The collection starts with his love of gemstones. If we take a step back before he put this collection together, we only need to travel back three and a half years ago. Ron's collecting habits initially began with gems and his initial expenditure was out of entertainment, but as time went on it developed into something much more serious. As his interest and passion in gems grew he was then prompted to become more involved in the gem world.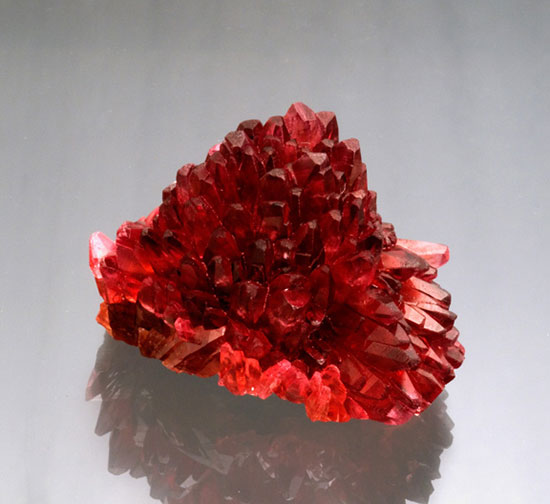 4.1 x 3.1 x 2.8 cm. N'Chwaning, South Africa. (Photo: Wimon Manorotkul)
Living in San Diego he found Pala International through its website Palagems.com and decided, here was a firm with the necessary expertise to look over his substantial collection. Ron's enthusiasm and love of gemstones made him easy to get along with. Though we aren't here to talk about gems, it is interesting to see how the industries are connected. His love of minerals developed by contact, as if it osmosed into his veins like an incurable virus. My father, Bill Larson, is to blame for this because every time Ron would visit and look at new gemstones, Ron would always see the natural crystals in our display cases and it began to fascinate him. He would question all of us about minerals and since his gem expertise was well rounded he was able to learn rapidly what made a great mineral specimen. He added many books to his gem library and I remember the day we arranged for him to meet Dr. Peter Bancroft and get a signed copy of Gem and Crystal Treasures. This exposure led him down the path to the "dark side," collecting gems in their natural form! Ron then began to fall feverishly in love with the crystals; as he points out all the time each one has unique shapes and special characteristics.
13.5 x 5.4 cm. Keweenaw Copper District, Michigan. (Photo: Jeff Scovil)
As with most collections, Ron's mineral collection is always developing and improving. About three and half years ago Ron's collection first began as a rough and cut collection. His focus therefore was on gem crystals only, which he could then match with his extraordinary gem collection. One piece that I really like is his beautiful heliodor from Brazil. This piece is a deep golden color and has fantastic "etchings" all over the crystal in a full three hundred and sixty degrees. It came from the collection of Steve Smale and anyone would be happy to have a piece from his famous collection.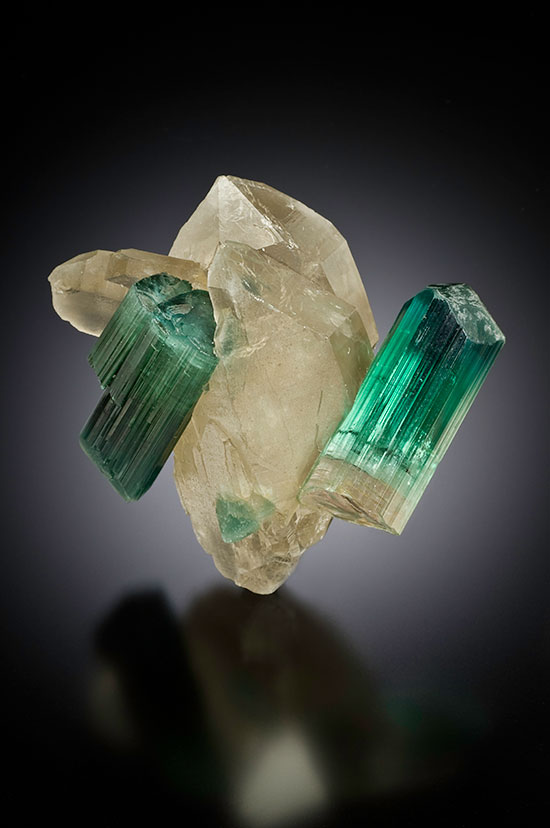 6.5 x 6.5 x 3.5 cm. Paprok, Afghanistan. (Photo: Jeff Scovil)
As time went on, though, Ron fell in love with minerals that were non-gem crystals and this pushed his collection into a whole new direction. The first piece Ron acquired that was a non-gem crystal was his pyromorphite from Bunker Hill Mine, Idaho. The properties of pyromorphite and the stories he heard about the location attracted Ron to the species and prompted him to go ahead and buy it even though it was not a gem crystal. The large crystals and great luster on this piece is what would attract any mineral collector to it and thus Ron was very happy with this piece. After making the jump to non-gem crystals it was all over but the shouting. Ron was hooked and ready to add more to his collection. He decided gems were actually not for him and instead focused on acquiring more minerals! This turning point is when his collection really began to take off and build. Piece by piece, Ron was able to obtain some stunning examples of mineral species that fascinated him or pieces from famous localities that he had heard of and wanted an example of.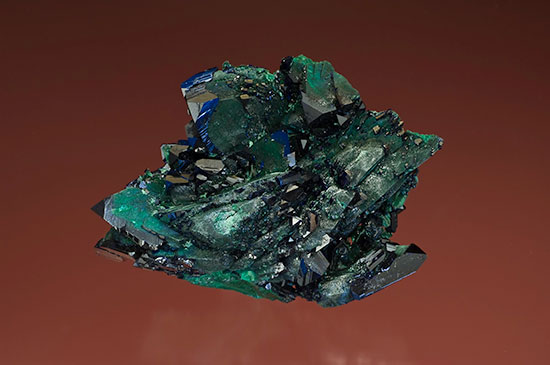 8.5 x 5 cm. Milpillas Mine, near Nacozari, Sonora, Mexico. (Photo: Jeff Scovil)
What is amazing is how much Ron has been able to learn in such a short period of time. His fascination with classic localities always surprises me, since these are normally not the types of minerals that bring shock value to new collectors. They also require sophistication to understand because they are not readily available on the market to study. One such example is his fine proustite from Chacarcillo, Chile, which he chased for about two years before he could acquire it. This is a fantastic piece as it is highly lustrous and deep red, with no damage; everything you could ask for in a specimen. He is deeply passionate and loves the minerals as much as the next collector and that's what makes his collection so in-depth, interesting and fun.
7.3 x 5.5 cm. Pech, Konar Province, Afghanistan. (Photo: Jeff Scovil)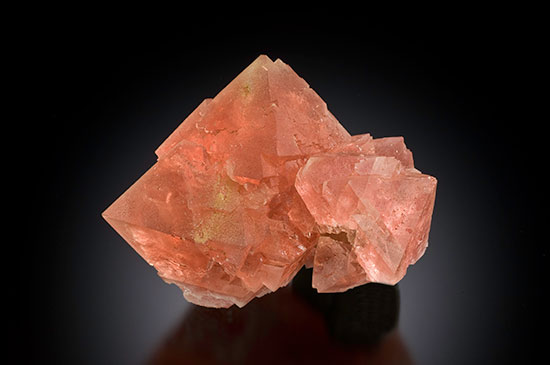 9 x 6 cm. Mount Blanc, Chamonix, France. (Photo: Jeff Scovil)